Video Streaming Server

for IRL Streaming & more
Our Video Streaming Servers support mobile video broadcasting devices like IRL backpacks, smartphones, and action cameras. You can use SRT or RTMP to stream to platforms like Twitch and YouTube, while retaining essential features like alerts and overlays. Our smart algorithms detect low bandwidth, switch scenes automatically, and keep your stream online.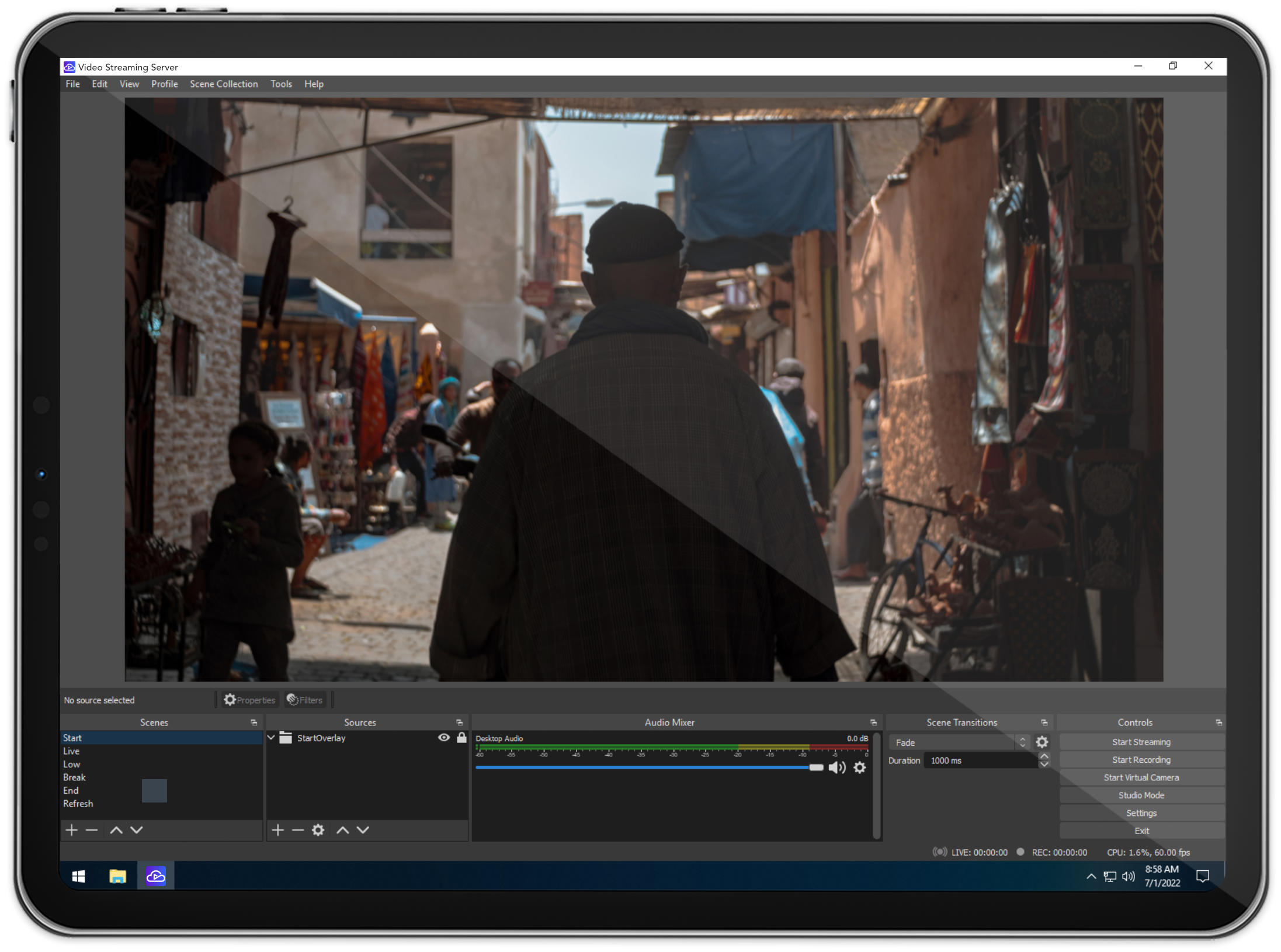 Cloud Livestreaming Software
Our servers are built on the foundation of OBS Studio, providing you with unparalleled control options. You have the flexibility to manage the servers entirely through the convenience of Remote Desktop or our intuitive customer control panel, empowering you with seamless control over your streaming experience.
Always under control. Even on the go.
Even if you only have a smartphone at your disposal, managing the video streaming server is effortlessly achievable. This seamless capability empowers you to effortlessly handle mobile live productions and IRL streams, making the process a breeze.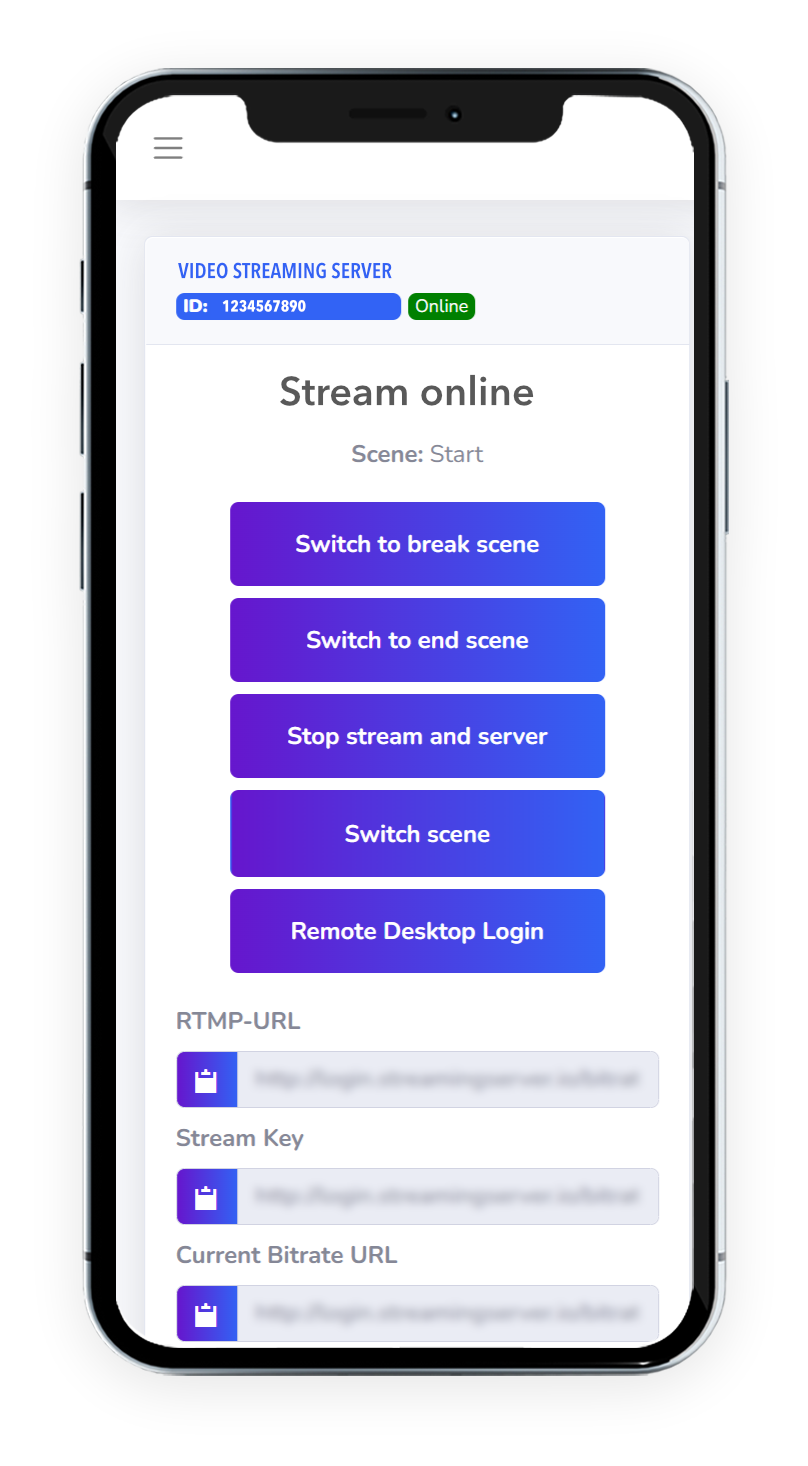 Features

High-quality mobile streams. Automatically.
Compatibility

Comfortable on all platforms.
Our cutting-edge streaming servers seamlessly integrate with a vast array of streaming services and platforms, offering extensive compatibility. These services typically rely on the widely adopted Real-Time Messaging Protocol (RTMP) for content reception. If your chosen streaming service supports RTMP streams as an input option, rest assured that our servers are fully compatible, enabling a seamless and effortless streaming experience.
Pricing

Powerful servers matching your resolution.
* All prices excl. VAT. All offers are addressed exclusively to entrepreneurs within the meaning of §14 BGB (German Civil Code). Minimum contract period: 1 month. If not cancelled before the end of the period, the contract will be automatically renewed and charged for another month.
Frequently asked questions
Answered for you.
Which streaming hardware can I use?
Our services boast exceptional compatibility, supporting a wide range of devices that are RTMP, SRT, or SRTLA compatible. This extensive flexibility ensures you have the freedom to utilize various professional streaming encoders, such as the LiveU Solo, seamlessly connecting via RTMP or SRT protocols. Additionally, you can leverage the power of your smartphone with applications like Larix Broadcaster, or explore SRTLA solutions like the Belabox, expanding your streaming possibilities to new horizons.
How does a cloud OBS server work?
Once you have successfully booked your Video Streaming Server, you will promptly receive your login credentials granting access to the comprehensive StreamingServer.io control panel. Within this user-friendly interface, you will discover all the essential information required, including your RTMP URL or SRT ingest address, Streamkey, and Remote Desktop Login details for your Video Streaming Server. With this valuable information at your fingertips, you have the freedom to commence streaming immediately or take the time to personalize your experience by configuring custom scenes and sources to your liking. Rest assured, our cutting-edge algorithms seamlessly adjust scenes based on your mobile signal quality as soon as you initiate the stream on your dedicated streaming hardware.
Does this work as an IRL Streaming Server?
Our state-of-the-art video streaming servers cater to IRL streamers worldwide. While we refer to them as "video streaming servers" due to their versatility across various applications, they are also impeccably suited as "IRL Streaming Servers." With default activation of automatic scene switching to seamlessly handle signal loss or temporary connection issues, you have the flexibility to bypass this feature if desired.
How long does the setup take?
At our company, customer satisfaction is our utmost priority. Typically, our servers are prepared and made available within a few hours. Even during periods of high demand, we consistently deliver our servers within 24 hours. Furthermore, we take the initiative to manually adjust the renewal date of your subscription, aligning it with the server's delivery date. By doing so, you will not incur any charges for the time it took us to provide your server.
How to control the Video Streaming Server?
We have developed an intuitive control panel specifically tailored to simplify the management of your cloud streaming server. For seamless customization, you can effortlessly log in to your server using a web-based remote desktop, eliminating the need for any software installation on your end. Accessing your server directly from your computer or smartphone through the browser is a hassle-free experience. Rest assured, our dedicated support team is readily available to provide any assistance you may require.
If you should have any further questions, feel free to contact us at any time and get to know our premium support.