IRL RTMP & SRT Endpoint Server

Embed RTMP & SRT streams into your streaming software
Our IRL RTMP & SRT Endpoint Server hosting allows you to embed your mobile IRL stream into your local streaming software like OBS Studio using either SRT or RTMP. Intelligent algorithms automatically detect low bitrate and switch your streaming software scenes accordingly (see requirements). If you already have a streaming PC with Streaming Software, you can use your PC instead of a more expensive cloud streaming server.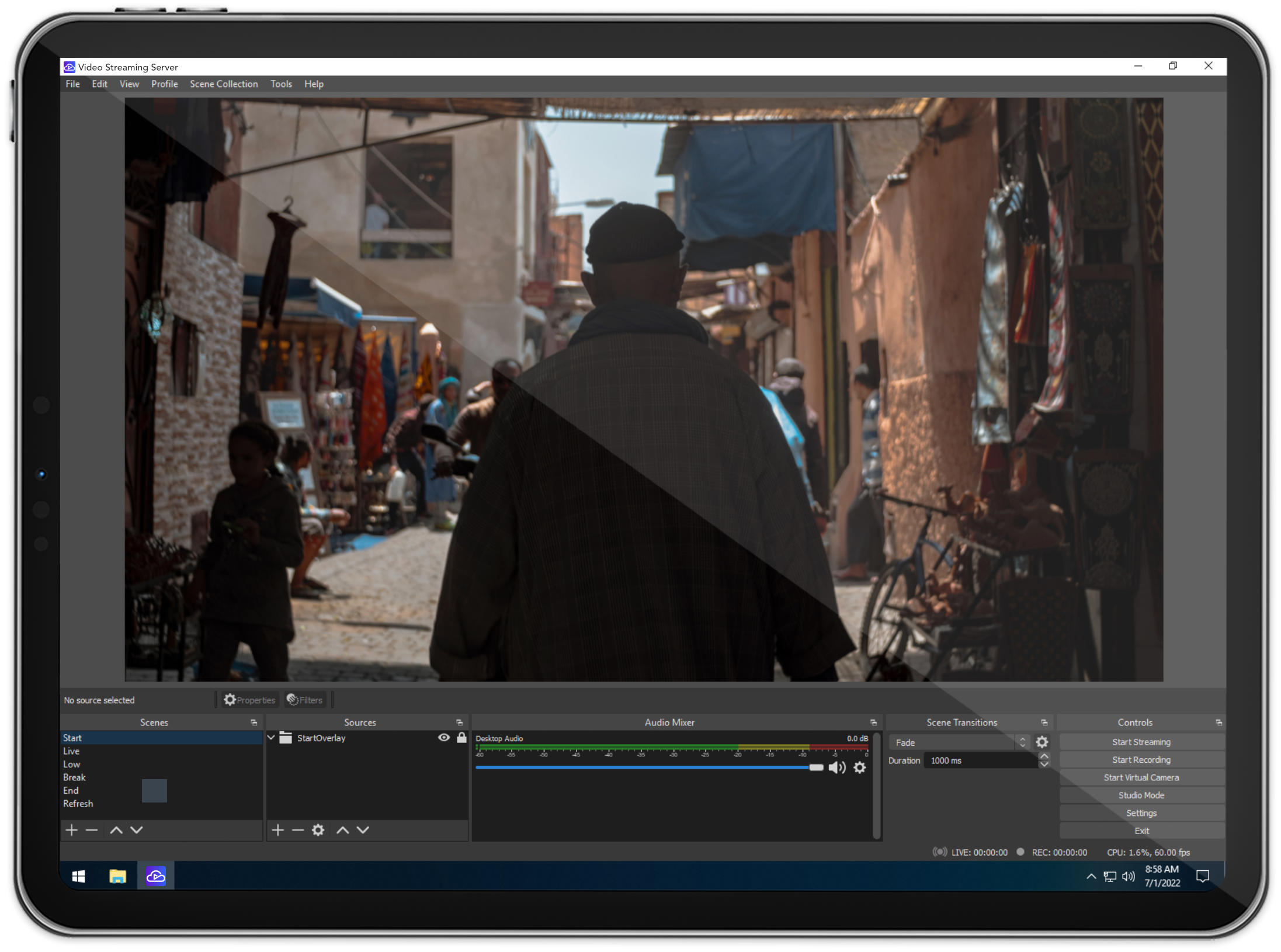 Embed your mobile IRL Streams into your streaming software
Easily embed your mobile IRL streams in your local OBS Studio live video streaming software. Our automatic scene switching will switch the scene if you have poor signal so that your stream stays online and your audience is always informed about what's going on.
Features

High-quality mobile streams. Automatically.
Pricing

One price. Endless possibilities.
We only offer one price, no matter what resolution or frames per second you want to stream at. Our servers are optimized for up to 1080p @ 60fps.
* All prices excl. VAT. All offers are addressed exclusively to entrepreneurs within the meaning of §14 BGB (German Civil Code). Minimum contract period: 1 month. If not cancelled before the end of the period, the contract will be automatically renewed and charged for another month.
Frequently asked questions

Answered for you.
How does the IRL SRT & RTMP Server work?
If you want to embed a mobile stream into Streaming Software, you will need an IRL Endpoint server. We will provide you with such a server. You will receive all the information you need to embed your mobile stream into your local Streaming Software. Furthermore your local Streaming Software will automatically switch scenes according to the current bitrate of your mobile stream. If it is to low or the connection is completely lost, the scene will switch and keep your viewers informed about the current situation.
What are the requirements for a working environment?
There are generally no requirements for usage of our SRT servers other than an encoder that offers streaming via SRT or RTMP. In order to use the automatic scene switching, you will need a Windows PC running OBS Studio. If you already streamed successfully using your system, there is a high chance that everything will work perfectly on the first try. Depending on your internet connection, you should adjust your mobile streaming bitrate as well as the bitrate you set in Streaming Software. Keep in mind that you will stream your mobile stream to your local Streaming Software (downstream) and stream to your preferred platform using your PC (upstream). You need to make sure that your internet connection is fast enough to cope with these bandwidth requirements.
What is SRT and how does it differ from RTMP?
SRT stands for Secure Reliable Transport. Just like RTMP it is a protocol for streaming audio and video data. SRT offers a lot of advantages like compatibility with newer and more efficient encoding techniques like H.265 HEVC, lower latency and a more reliable form of streaming.
How long does the setup take?
We usually deliver your server within 24 hours.
Where will my server be located?
We automatically choose a data center of ours that is located closest to your billing address. If you want the server location manually, send us a ticket before placing your order and choose one of the following locations:
| City | Country | Continent |
| --- | --- | --- |
| Melbourne | Australia | Asia Pacific |
| Mumbai | India | Asia Pacific |
| Seoul | South Korea | Asia Pacific |
| Singapore | Singapore | Asia Pacific |
| Sydney | Australia | Asia Pacific |
| Tokyo | Japan | Asia Pacific |
| Amsterdam | Netherlands | Europe |
| Frankfurt | Germany | Europe |
| Helsinki | Finland | Europe |
| London | UK | Europe |
| Madrid | Spain | Europe |
| Paris | France | Europe |
| Stockholm | Sweden | Europe |
| Warsaw | Poland | Europe |
| Atlanta, Georgia | USA | North America |
| Chicago, Illinois | USA | North America |
| Dallas, Texas | USA | North America |
| Fremont, California | USA | North America |
| Los Angeles, California | USA | North America |
| Mexico City | Mexico | North America |
| Miami, Florida | USA | North America |
| New York, New York | USA | North America |
| Newark, New Jersey | USA | North America |
| Seattle, Washington | USA | North America |
| Silicon Valley, California | USA | North America |
| Toronto, Ontario | Canada | North America |
| São Paulo | Brazil | South America |
If you should have any further questions, feel free to contact us at any time and get to know our premium support.