LiveU Solo (Pro) & LRT™

Everything about the mobile video encoder
When it comes to professional mobile streaming LiveU offers a variety of solutions. One of the most popular products is the LiveU Solo and LiveU Solo HDMI. In this article we will provide information about the hardware itself and how our cloud streaming servers enable LiveU users to both stabilize and increase the quality of their streams.
What is the LiveU Solo (Pro)?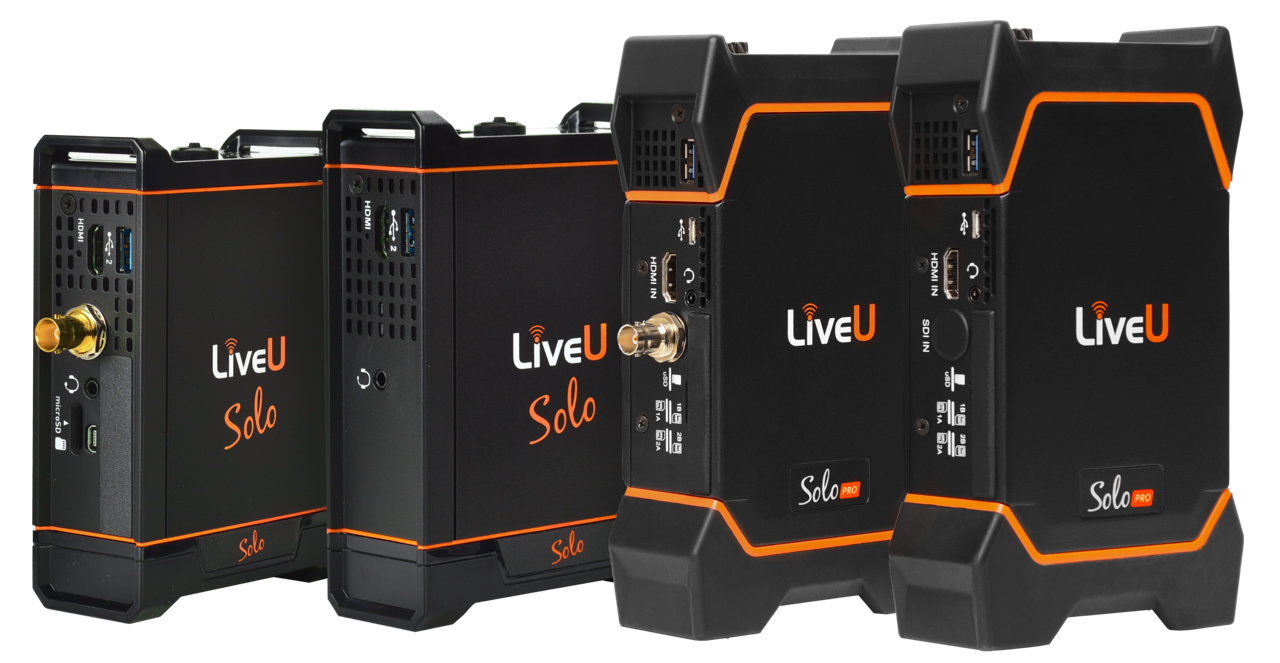 The LiveU Solo is a mobile video encoder that allows you to professionally live stream wherever you go. You connect your camera to the device using either SDI or HDMI. The device supports resolutions of up to 1080p @ 60fps. An internet connection can be established using USB LTE modems, an ethernet connection and WiFi.
LiveU LRT™ Cloud Bonding Service
Using LiveU's LRT™ technology, it is possible to use multiple networks for best stability. The LiveU Solo comes with two USB ports that you can use to connect two USB LTE modems. The ethernet port can be used to connect a wired network like a local area network or another LTE modem with an ethernet port. In addition to these three ports the device offers WiFi for wireless network connection to either a local WiFi network or a mobile hotspot.
Difference between LiveU Solo and LiveU Solo HDMI
There are two different variations of the LiveU video encoder. The difference is that regular version comes with both SDI and HDMI ports while the LiveU Solo HDMI offers only an HDMI port. SDI is mainly used in professional production environments while HDMI is primarily used in consumer electronics. If you only use HDMI connections, the cheaper LiveU Solo HDMI will be sufficient. In case you use SDI or might use it in the future, you should go with the regular LiveU Solo.
Since November 2022 LiveU offers the LiveU Solo Pro. This version offers not only RTMP but also SRT for transmitting the video signal. SRT uses only about half of the bandwidth to stream at the same quality which makes it an even better mobile broadcasting solution.
Battery life and external batteries
The LiveU Solo has an integrated battery that offers two offers of battery life. If you want to use to device longer without charging it in between you can use an external battery. Regular USB powerbanks do not work! The USB ports on the device are meant for usage with LTE modems only. The external battery needs to be connected using the 12V DC IN.
Pricing: How much does the LiveU Solo cost?
The LiveU Solo HDMI has a regular list price of 829€ excl. VAT. The LiveU Solo Pro HDMI has a regular list price of 1495€ excl. VAT. If you are interested in purchasing one, feel free to contact us.
Our service: Cloud Streaming Software Streaming Servers
We offer cloud Video Streaming Servers that combine the powerful features with the flexibility and connectivity of cloud computing. Intelligent algorithms detect low bandwidth and automatically switch to a different scene in order to keep the stream stable and enjoyable. You can find more information about our servers on the page Video Streaming Server. Alternatively you can use your own Streaming Software streaming PC with one of our IRL Endpoint Servers for similar features at a lower price.
If you plan on embedding a live stream into your website, our live video streaming servers including a HTML5 web player enable you to do so in the easiest way possible. If you do not wish to embed the player into your website, we also offer hosting of password-protected players for your streams as an optional feature of our RTMP Servers.